Before I get into talking about Canadian Design, here's a little update…
A lot has been happening at the MãK Interiors studio lately. For one, we've moved into a great new space in Gastown and are loving it. The building is old and quirky and full of other creatives so we are feeling very much at home. Here's a peek at the space…
More photos soon, I swear.
We share the space with my husband Colin and his marketing/branding firm Marble Coin Creative, which is really streamlining the projects that we collaborate on. AND to top it all off we've welcomed a new team member, our junior designer Kathlene – so happy to have her on board! Phew! 2016 has been a busy one and we're not even three months in.
With all of that settled it's time to refocus on the MãK blog and we have some great stuff coming up!
If you've been here before (or met me. Ever.) you know I've got a thing for local design. I've focused on it through my Designer Desk features and also by bringing Designer Happy Hour to local design studios, pop-up shops and galleries that I think the greater design community need to know about. While Designer Happy Hour is going stronger than ever (you can follow DHH on Instagram!), and we have some great Designer Desk profiles coming up, we wanted to do more.
There is some amazing work being done north of the 49th and I want to expose Canadian design renegades and how sourcing locally can have some amazing benefits. We'll be featuring the best Canadian designed and made furniture, lighting, art, and accessories; talking to Architect, Designers, Makers, Artists, and Artisans about what they love and loath about running creative businesses; scouting great Canadian interiors, and all sorts of other inspiration, information, and innovation.  I'm pretty excited. Not gonna lie.
See all the stunning stuff below? All of these items are produced right here in Vancouver by companies that we have and will be featuring…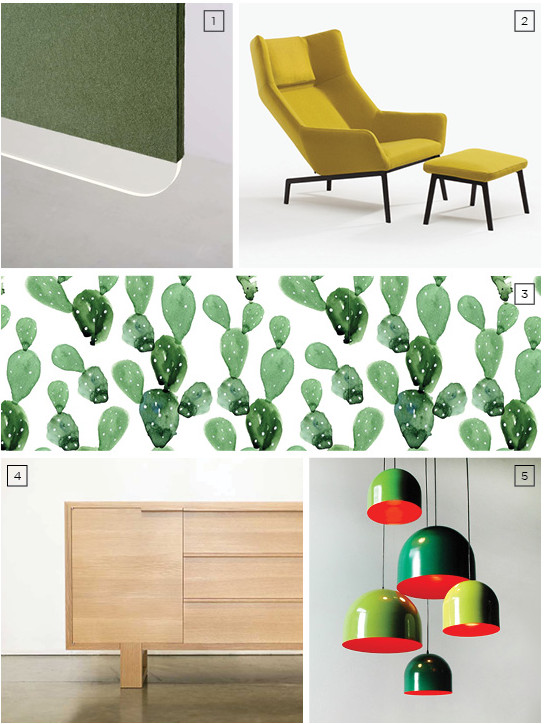 1. Slab 30 Light by AND LIGHT | 2. Park by Bensen | 3. Watercolour Cactus mural by anewall | 4. Thru Credenza by Kate Duncan | 5. Homespun pendants by Propellor
We're on a mission folks! No longer should 'Made in Canada' conjure up visions of ornamental side tables made to look as if Beavers had carefully chewed them into existence. Let's give recognition to those who are creating refined, stylish, and innovative work here – they deserve it! There's a lot to discover and we can't wait to share it all with you.
If you have a great Canadian resource that we should know about, please drop us a line.