Welcome to the first instalment of Designer Desk; a new blog series featuring the work-spaces of local Vancouver Designers, Makers, Artists and all-around talented people.
If you know me, you know that I'm crazy passionate about the Vancouver design community and bringing people together to make design magic happen (or even just grab a beverage or two). Through this I've realized what a wealth of creativity and skill we have in this city and I just have to spread the word.
It is with great (and barely-contained) excitement that I give you the first edition of Designer Desk…
I first stumbled upon Dana Mooney's work at Peridot Decorative Homewear and then mentioned it here. Dana ended up seeing the post and we connected via the interwebs (that really does happen!). I thought Dana was a great fit for the first edition of Designer Desk because 1) she has a lovely studio (recently featured in Rue Magazine) and 2) because I know that her work is blowing up and I wanted to get her in here before she became way too busy and important for my wee little blog (PS: that would never happen, she's far too nice!).
The best way that I can describe Dana's work is that I want to eat it. She works in both canvas and paper and her pieces are always light and airy with pops of bright colour and the occasional hints of metallic – essentially a candy bowl for the eyes. Dana gave me a tour of her West-end studio and we talked about her work space, design process and what makes her get down to the business of painting.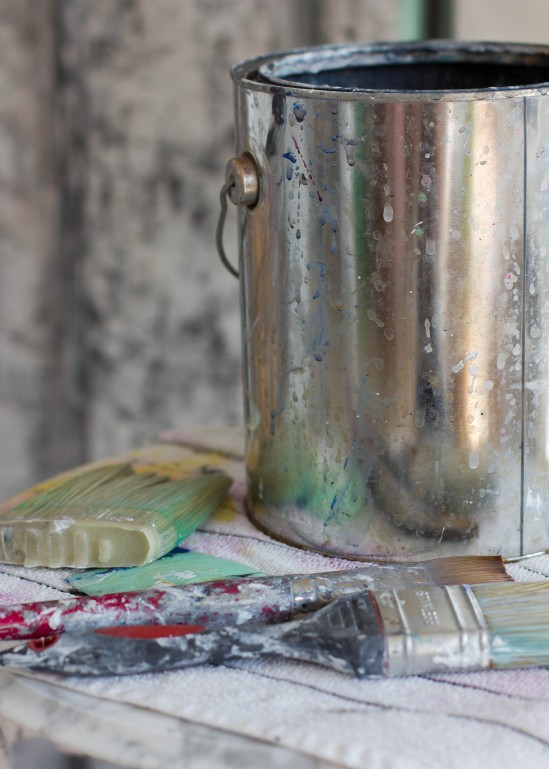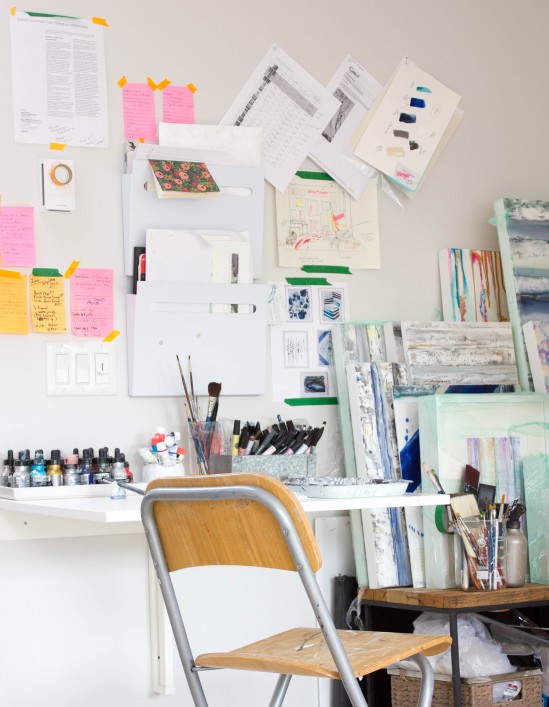 MaK: I understand that you have a background in interior design, how did you migrate to painting and when did you decide to make it your full-time gig?
Dana: While I was working at Peridot Decorative Homewear, a retail home decor and design shop, I had the opportunity to start showing and selling some of my paintings. So it was over that 4-5 year time period that I saw my art business start to grow, and it was exciting for me to have such a positive response to my work! But it wasn't until last January 2014 that I turned my focus 100% on my art career. It was a big life change for me, but I honestly am the happiest I've ever been and am so excited to see what's next!
Can you give us a brief breakdown of the process behind your paintings? What is your favourite part of that process?
Basically, I paint my pieces in layers. I like to choose the color palette, lay it out and get the base down. It's not until then that I have a bit of an idea of what direction the painting will go. After that, if it's a birch painting, I'll use white paint or gesso to sort of lay down the bark texture. If it's an abstract piece, I'll continue to paint from background to foreground, usually using softer colors and transitioning to bright or bold colors. Sometimes, I'll finish a piece with gold leaf or epoxy resin. That's the best part, it's like adding glitter and making it sparkle.
What does a typical day-in-the-life-of-Dana look like?
I usually start my day by looking at my to-do list for the week. I'm really forgetful so I have to force myself to keep reminders. Then I'll make a to-do list for the day. I'll answer any neglected emails and check out what's happening on instagram, twitter. Then I'll get to painting, but I don't like to do it in long blocks of time. So I'll usually multitask all day! Overall, I work from 8am to about 7pm 5 days a week, with some breaks in between:)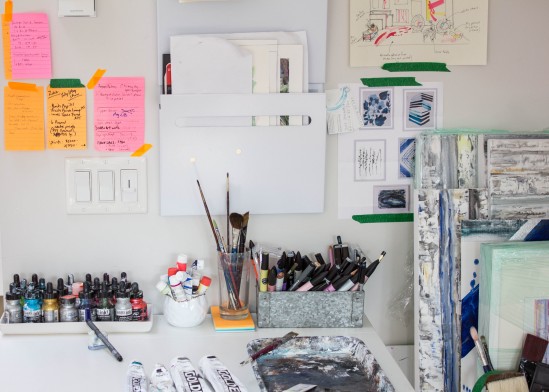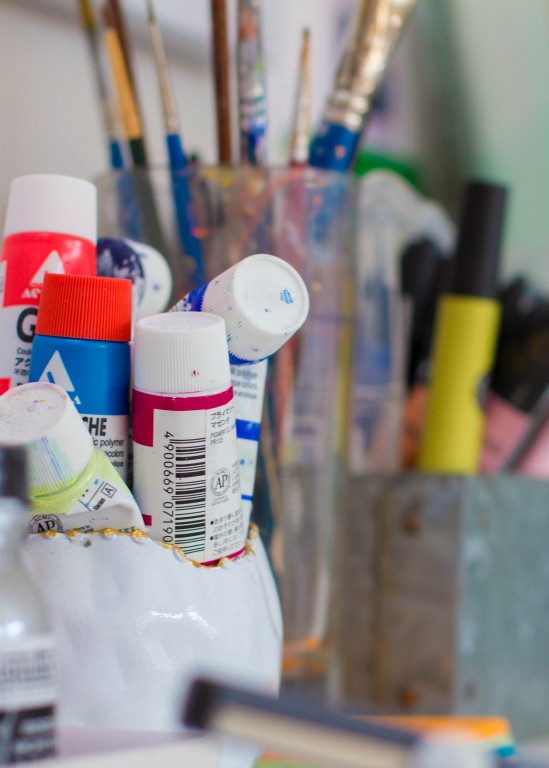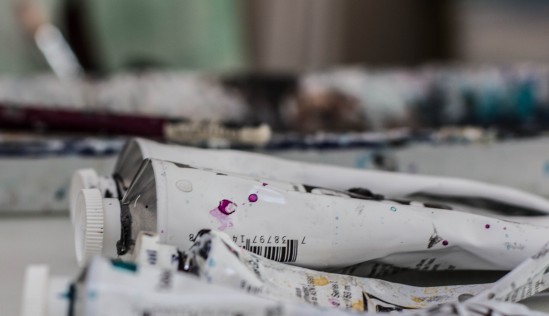 Describe your workspace and why it works for you:
My workspace is in my apartment in the West-end. It works so well for me that I can start and stop work easily. The lighting in my apartment is amazing for painting, and the space itself functions so well because I can simply keep my work in the one zone and it's a clean, neutral and modern background to my art.
What item or element of your workspace could you not function without and why?
I have this one brush that I've had for like 15 years…I use it in every painting and am stressing out that it's lifespan is coming to an end! I've tried to find a replacement but I can't find anything on par!
Do you have any work rituals or habits that help you focus and get down to biz?
I always change into "painting clothes" before getting started. Once I'm wearing my paint covered clothing, I won't go off track or be distracted.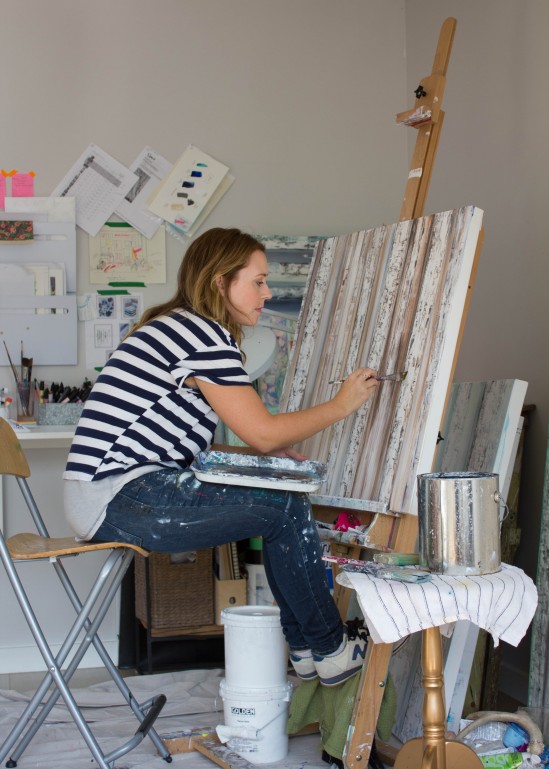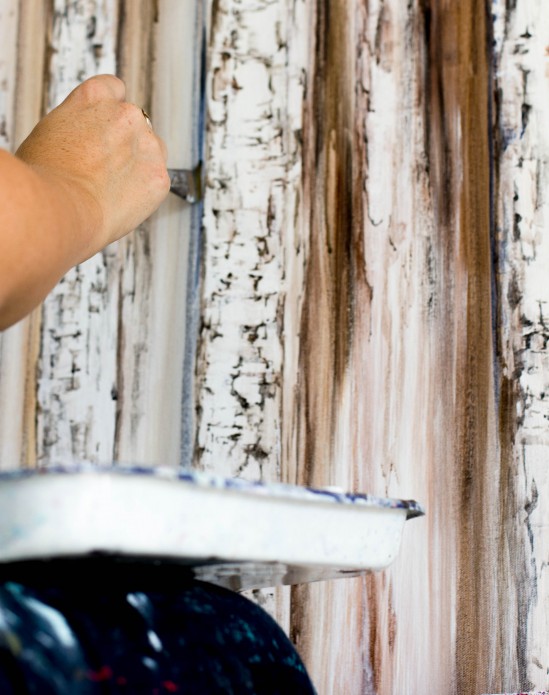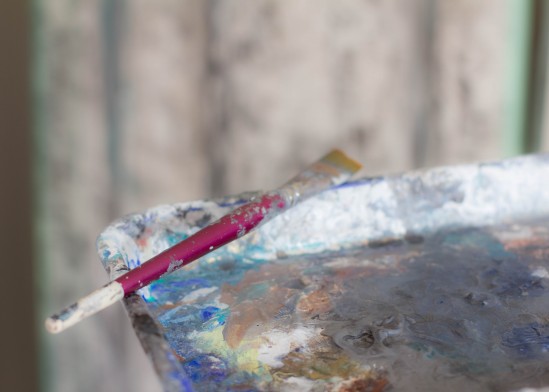 What's next for you/what are you working on right now?
My next big adventure is the upcoming IDS West Trade Show. I'm exhibiting for the first time, and I'm super excited to see where it leads me. So right now I'm planning my booth design (I'll be in The District Section) and as well creating new work to display at the show!
Quick fire round:
The first thing I do in the morning: pee
When not at my desk, you can find me: Catching up with friends over drinks
Pencil or Pen? Pen. 100% Pen all the time.
Coffee or tea? Coffee
Favourite Vancouver neighbourhood: West-end
What you love about it: It's full of quirky characters, and the beach is my backyard.
What you would change about Vancouver: The price of living
What I'm reading right now: Design magazines: Living Etc, Elle Decor, Rue Magazine, Gray
Magazine, Lonny
Media that I read/watch/listen to almost daily: Instagram, Twitter
Vancouver Maker/Designer/Artist that we need to know about: Steelwood Designs, Bareknitwear,
Amy Kassam Design, DMR ceramics. Painters: Andy Dixon, Luis Lopa
A very big thank you to Dana for being the guinea pig on this new series! If you're not familiar with Dana's work, do check out her website and of course, visit her at the upcoming IDSwest show next month. Dana is also very active on Twitter & Instagram so you can drop her a line there too.
If you know of a designer, artist or maker in Vancouver that you'd like to see featured in an upcoming Designer Desk, please drop me a line.